Review: (2023-03-25) of Vallerret Photography Gloves-Markhof Pro V3
For the sake of transparency, I want to start by saying that I've recently started a collaboration with the Norwegian company Vallerret. However, my thoughts and conclusions are completely in line with what I actually think. I also want to highlight that Vallerret has solved an important old problem, – how to keep your hands warm while being able to handle a camera smoothly.
The advantage of these gloves is the ability to quickly expose the thumb and index finger (on both gloves), and easily access the smaller parts of the camera and being able to maneuver eg. a touch screen. They use a flip technology, where the part that is folded back is locked with the help of magnets, very practical.
Unpacking and my initial thoughts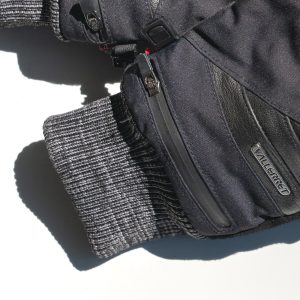 The first thing that strikes me after unpacking and trying these gloves out, is how soft and comfy they feel. They close around the hand in a very pleasant way. In the palm, they have integrated a rubber-like material that provides an incredibly good grip. It feels safe when you hold your camera. On the front of both gloves, there is a small pocket with a zipper where you can store memory cards, a small lens cloth or hand warmers. In one of the pockets they have included a small tripod key that attaches with a strap to the pocket. The zipper construction also appears to have a good weather sealing.


Solves an old problem
Vallerret has an innovative solution to a problem that has plagued and frustrated me for years. Since 2015, they've been busy producing gloves, designed by photographers for photographers. Gloves that are flexible and that you don't necessarily need to take off to handle the most common camera functions. This means that the heat you have built up inside the glove stays where it should.
In cold conditions, I can easily maintain my body temperature with the right clothes. However, I've always had problems keeping my hands warm. Previously I used gloves that had to be removed to use the camera properly, which is a hassle in itself. Bulky gloves that are not at all suitable for adjusting small buttons.
I've also tried fingerless gloves, where the cold and wind obviously reach the fingertips at once. Another workaround has been a thinner glove that I stuck into a mitten. All these attempts to keep my hands warm have been just bad compromises. 


Mild winter grading
Vallerret has a pretty good selection of photo gloves to choose from. The models range from light winter to colder weather. These gloves, Markhof Pro V3 are graded to "Mild winter". With a grade of 0-5, these are marked with 3.
Tech Specs-Markhof Pro V3
100 % Merino Wool inner
FlipTech finger caps with magnets
DWR (*) Genuine Goats leather
Thinsulate Insulation (C100/C70)
True Suede lens Wipe
Pre-Curved Glove Design
Non-Slip Grip with Unique Print
Memory Card Pocket with Tripod Key
Stretchy Jersey cuff
(*) Durable water repellent
---
I've tested the gloves for a few weeks with temperatures from -10°C to +5°C. I have photographed in snow, drizzle and in really rough weather. They haven't let me down, just kept my hands warm and cozy. The rating of "mild winter" seems to be a good indication. The Markhof Pro V3 is not completely waterproof, but can withstand light rain due to the water-repellent materials.
With a great sense of detail and a combination of goatskin and suede makes them really stylish too. A very well thought-through glove with a layer of merino wool. Which is a super soft material that can breathe and regulate temperature very effectively and keep moisture away from the skin. Also with a combination of DWR (durable water repellent) shell, and 3M thinsulate insulation, have they made a product of the highest quality.
I've really nothing negative to say about Vallerret's-Markhof Pro V3. The materials are all top quality. A very functional glove that works for so much more than just photography. And fast they've become my go-to glove!